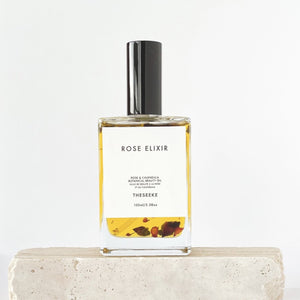 The Seeke Rose Elixir Rose & Calendula Botanical Beauty Oil
Regular price $69.95 Sale
or make 4 interest-free payments of $17.49 AUD fortnightly with
More info
ROSE & CALENDULA BOTANICAL BEAUTY OIL
Size: 100ml
Best Seller
Multi use Moisturising Oil
Face Cleanser
Mix with Rose´ Clay Mask As An Exfoliator
Body Moisturiser 
Face Moisturiser 
Hair Treatment
Bath Oil 
Hair Defrizzer
This beautiful botanical elixir contains oils of camellia & argan which are both known for their nourishing & conditioning effects on skin & hair. Calendula infused in organic olive oil is known for its ability to soothe dry & damaged skin. Scented with rose geranium & lavender, rose elixir can be used as a roll on perfume oil, a gentle moisturiser for the face & body or a hair defrizzer.
Rose Elixir can be used as your body moisturiser, a bath oil or a hair treatment applied to damp hair. It can mixed with our Dry Clay Mask as a nourishing face exfoliant. It can also be used to oil cleanse the face to remove make up. To use as a cleanser, apply with dry hands to a dry face & massage in to skin. Wet hands & continue massaging while rinsing off. To use as a hair treatment apply to damp hair, leave for 30 minutes & then wash hair.
Delicate organic rose buds are suspended inside each bottle which makes this elixir a delight for all the senses.
Feature Ingredients: 
Calendula is one of the most common plants in Australia; it grows in abundance in most peoples gardens. It is traditionally used as a first aid treatment for burns, scalds and external wounds associated with physical trauma or infection. Calendula acts as a topical antiseptic and antiviral. As an anti-inflammatory it has been used to help relieve skin conditions such as eczema and psoriasis.
Camellia oil is obtained from the seeds of the plant, it grows mostly in Asia and has been used for centuries in Japan to nourish and condition the skin. It is rich in vitamins A,B,C & E, minerals, omega-6 essential fatty acids and omega-9 fatty acids. Camellia oil is moisturising, fast absorbing with an ability to penetrate to deeper layers of the skin. Promotes elasticity on the skin and prevents the appearance of ageing. Soothes the irritation of dry skin. 
Rose geranium is Anti-bacterial, anti fungal, antiseptic and anti inflammatory. Rose Geranium essential oil is excellent for treating a variety of skin disorders such as acne, eczema, dermatitis, rashes and fungal infections. As cicatrisant, it can make scars fade away slowly. Rose geranium can also help to regulate sebum production.
Lavender essential oil has been known for its antiseptic and analgesic properties. It has also been known to have sedating properties.
Argan Oil

has high concentrations of essential fatty acids, oleic and lineoic. Used topically, Argan Oil provides intense conditioning benefits to dry and dehydrated skin and hair. When applied to the skin, Argan Oil particularly helps restore, regenerate and restructure the skin by way of increasing the nutrient content of skin cells. Argan Oil has sought-after antioxidant properties which makes it especially beneficial in skincare products. Argan Oil also has strengthening effects on nails and hair. 

INGREDIENTS:
Camellia oleifera seed oil*, Olea europaea fruit oil*, Calendula flowers*, Argania spinosa kernel oil*, Rosa centifolia (red rose buds), Pelargonium graveolens (rose geranium) essential oil, Lavandula angustifolia essential oil, Tocopherol (natural vitamin E).
* Certified organic.