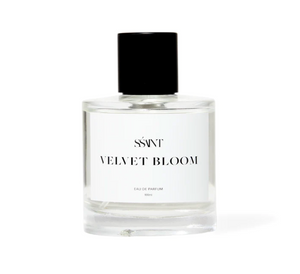 SSAINT EAU DE PARFUM - Velvet Bloom
Regular price $139.00 Sale
or make 4 interest-free payments of $34.75 AUD fortnightly with
More info
During dusk's golden hour, rays of sunlight reach down from the vast sky and fill your world with possibility. Explore the border between day and night, past and future, thresholds and transformation. 

Let warming notes of orange flower petals, cloves, chestnut and vanilla open a doorway to your true self.
Unisex fragrance with the below notes:
Pink Pepper, Orange Citrus, Clove Spice
Chestnut, Juniper Berry, Cade
Cedarwood, Cashmeran, Balsam of Peru, Vanilla
Behind the Scent
Born from a collective and intrinsic appreciation towards the ethereal qualities and emotive capabilities of fragrance, Owners Ciara Mahoney and Elle Wallace gave light to SŚAINT.
At its deepest, SŚAINT represents a culminated influence drawn from our natural and far stretching surrounds, from traditional Asian markets, to the depths of middle eastern souks and across the sun-stricken beauty of our Australian outback. Each scent has been carefully curated to offer a unique character of self, an all-encompassing ode to experience, aspirations and olfactory memories. Evolved, expressed freely and evolved once more to offer an atmospheric and deeply unexpected experience.
This carefully considered approach will awaken your emotive responses, encourage introspective reflection and pay homage to the aspirational qualities we each uphold.
Ingredients
SŚAINT ingredients are organically derived or wildly crafted wherever possible. It is within our values to help re-frame what it means to use synthetic ingredients in fragrance and share with our community the sustainable benefits available of such, when utilising synthetics safely in fragrance.
Through the use of safe synthetics, SŚAINT is able to push boundaries and create unique molecular combinations that are firstly derived from nature and secondly, paired with a scientific approach - innovating beyond the traditional notions of what it takes to create bold, clean and pivotally; safe scents. Safe for you and safe for our world.
Each of our fragrances contain 20% perfume concentrate, are cruelty-free and are without toxic chemicals or harmful elements. See below for full ingredient disclosure.
OUR GUIDING PRINCIPLES
Sustainability: We inherently believe that it is each of our individual responsibilities to tread lightly upon our planet. We are committed to continually minimising our carbon footprint as far as we possibly can while transparently sharing with our community the journey of each product as it is compounded, filled and shipped all by hand and with love.